BLOOMINGTON — Bloomington's first cat café is seeking to switch out its customers' morning yawns for meows and mocha lattes.
The Cat's Meow Café, 507 N. Hershey Road, Suite E, launched Wednesday with nine soft-furred felines looking bright-eyed and bushy-tailed for customers and prospective adopters. The new business is partnering with west Bloomington rescue Pet Central Helps on facilitating adoptions by fostering up to 13 adoptable cats at a time in 850 square feet of dedicated cat space, which is enclosed and separated from food ordering, preparation space and bathrooms.
The café is open Monday through Friday from 7-11 a.m. and 3-7 p.m., pausing for cat naps and cleaning time. Saturday and Sunday hours are 8 a.m.-3 p.m.; entry to the cat space is free with a café purchase.

McLean County dog sets world record for longest tongue
Owner Lauri Meins said they ran a soft opening Monday and Tuesday for family and friends of staff, and received a steady stream of small groups Wednesday in their first few public open hours. Two of the nine cats were already spoken for by 8 a.m., she said, as adoption paperwork is pending for Checkers and Linus, two 5-year-old tomcats.
One first-time customer Wednesday was Bloomington's Jen Woodrum, who acquainted herself with a nearly 2-year-old short-haired cat called Ashley. She said the new business is great, and she wants to return as often as possible.
Woodrum said the cats were playful and quick to greet her. All you have to do, she continued, is rip a toy ribbon back and forth by them.
Meins hails from Springfield and lives in Normal, where she personally cares for her dogs Bella and Izzy, and her two black cats, Meatball and Noodle. She said she got a bachelor's degree in business from Robert Morris University.
Exterior signage from the commercial unit's former tenant, The Hair Stadium, was still displayed Wednesday, as new signs are being ordered for the café. Meins said the former salon's plumbing setup was perfect for the café.
"It had the bones that we really needed to put in all of our commercial sinks," she said.

Horses, goats and cows get hoofing at final McLean County Fair day
Kitty Town Coffee of Lebanon, Pennsylvania, will be the café's roaster for hot drip and espresso drinks, and has pledged support for shelters and other cat cafés in the country. Retail coffee bags will be shelved at the Bloomington café, too.
Sausage and cheese and bacon and cheese breakfast sandwiches were offered on opening day; vegan sandwich options are in the works. Meins said she will look at providing a rotating selection of pastries, with gluten-free options. Different drink flavors will be phased in across seasons, like pumpkin spice in the fall, but she also plans to stock less common varieties, like peanut butter and butterscotch.
"We have different kinds of flavor that you can't get anywhere else," she said.
Non-dairy creamer options like oat milk are available, and lemonade was popular among non-coffee drinkers Wednesday morning.
Meins, who also has about two decades of experience styling hair and owns the Hello Beautiful salon in Normal, believes she is the first in Bloomington to open a cat café. In the developing stages, Meins said she hit a learning curve to determine the best operational practices.
"There's no one I can compare myself to," she said.
She said she traveled to other cafés in St. Louis and Chattanooga, Tennessee, and did research on forums that had experience running similar operations.
The 1,600-square-foot commercial space leased by the café neighbors Hershey Road Dental Plaza, Rob Dob's Restaurant and a Huck's gas station, and may hold up to about two dozen customers and 13 cats. The cat area is enclosed by dry-walled railings and flower-themed wall screens.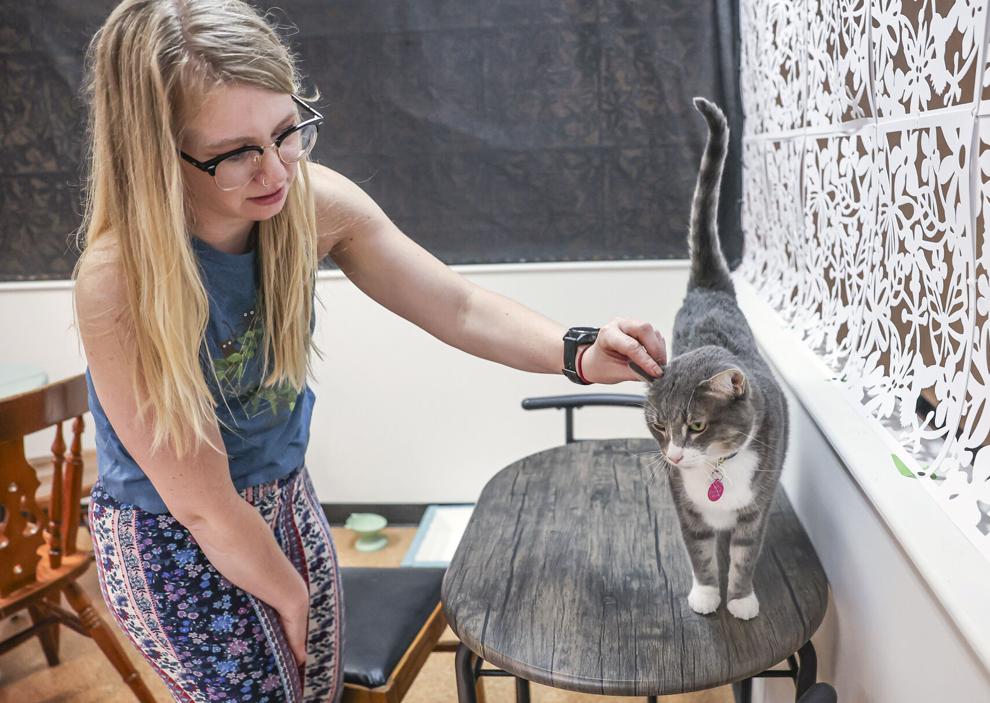 A cat's cradle
Meins has hired about nine café staffers, including full-time manager Jessi Delost. Others may be employed part time, depending on available hours.
She said it was Delost's idea to have one employee per shift dedicated to cat-caring duties.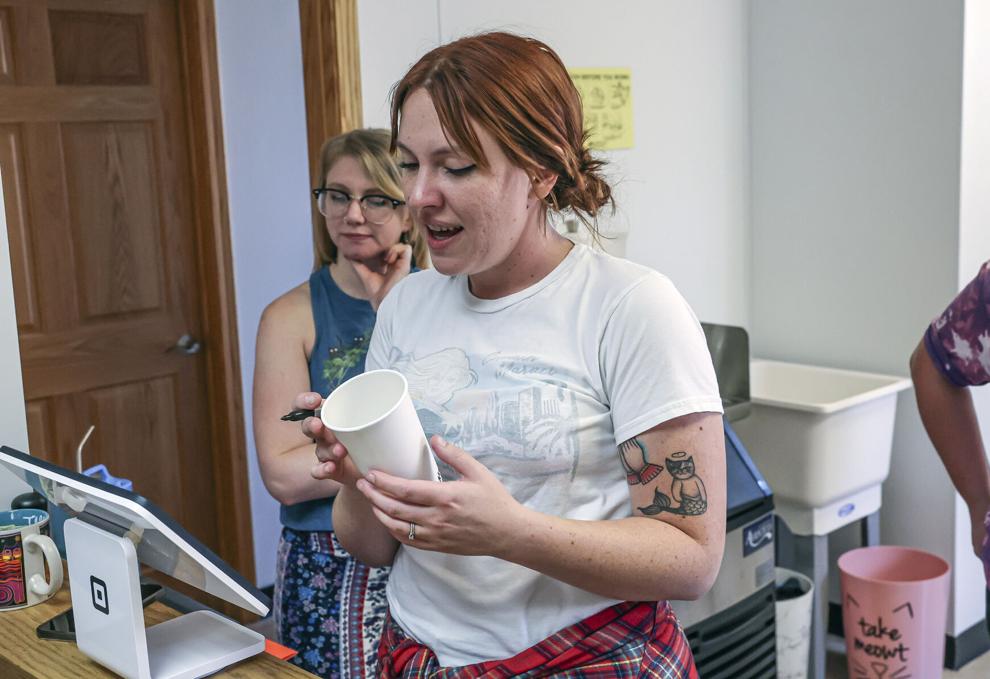 "That way during their shift, they're not going back and forth between job duties," Meins said. "They're not going and making a drink and going into the cat room."
She said all café staff are trained on daily care, including feeding and cleaning. Some hires had backgrounds in barista work but no shelter experience, and vice versa, she said.
"It kind of helped us pick out just the perfect, qualified candidates for the positions," the café owner said, adding she has nursed the business concept for about a year.
To prepare for cat behavioral concerns, Meins said cats housed at the café have completed an onboarding process with Pet Central Helps, where they were already living in a communal space.
She said a protocol for cats new to the café space will be to separate them in shared areas while they get acquainted. Meins said Pet Central Helps is willing to transport animals that aren't adjusting well back to one-on-one foster homes so all cats remain in a safe and happy place.
Meins said adoptions will be managed by Pet Central Helps, and the café may occasionally feature certain cats that are not always present there. Interested adopters will be directed to the rescue's website for applications.

Humane Society of Central Illinois celebrates 'Brown Dog November' with reduced rate
Lisa Kitchens, executive director of Pet Central Helps, said the café is helping her shelter increase capacity, adding that another meeting place for potential adopters is nice.
She also said the housing crisis in Bloomington-Normal has affected rescue intake, as many people are dealing with rent hikes and are unable to find housing that allows pets.
The cats housed at the café are wonderful and ready for a new home, she said.
Meins said the McLean County Health Department was transparent on guidelines and was easy to work with, noting MCHD staff mapped out a diagram showing that drink preparation and cat areas should be separated.
A MCHD representative said their environmental health division has no records of a previously established cat café in Bloomington-Normal.
The café is insured by Country Financial. 
Meins said customers will need to sign a liability waiver to enter the cat area. Visitors must agree to not play "roughhouse."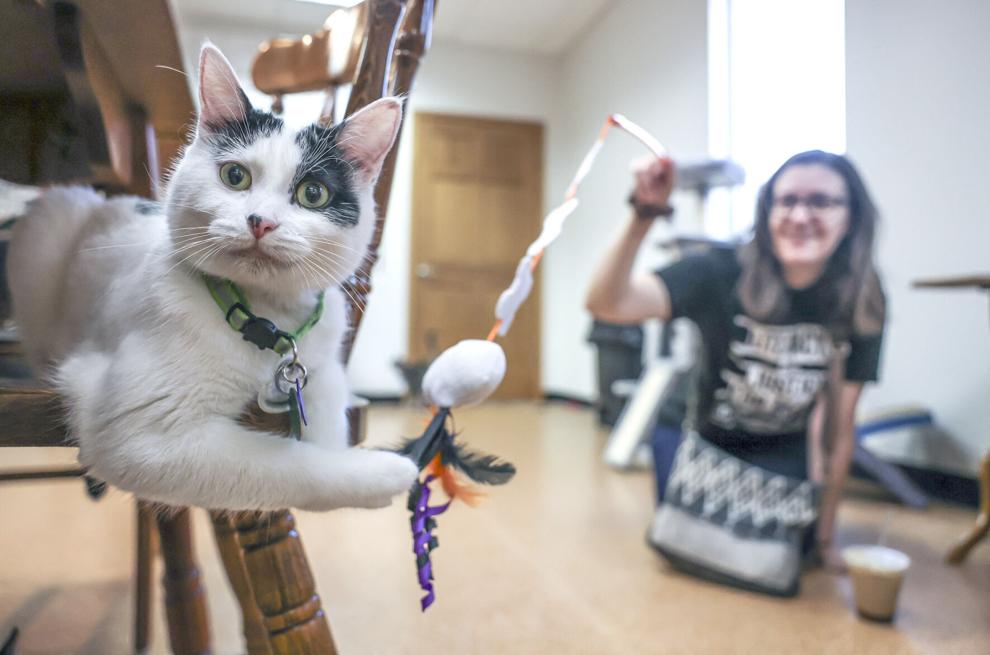 In addition to finding new forever homes for rescue cats, Meins hopes the space will help people meet new friends.
"Where else do you meet friends when you're in your 30s?" asked Meins, 38. She added kittens and coffee make for a good partnership.
One couple attending opening hours Wednesday were Savanah Kennedy and Ben Westin. A 3-year-old medium-haired tomcat named Cola curled up to Westin on the couch.
Westin said Cola had pretty eyes and is "one of the sweetest cats I have ever met."
Kennedy, who studies English-education as a junior at Illinois State University, said she previously went to a cat café in Milwaukee, where the experience was so good it's "to die for."
She's looking to adopt her own cat to bring home to her apartment, and is first gathering pet supplies. When asked if she had decided on a new forever friend Wednesday, Kennedy said: "I've already got my eyes on a few."

Illinois Department of Public Health urges caution of rabid animals
Beyond catnip: 7 safe, cat-friendly plants to have at home
Cat-friendly plants to have at home
Alyssum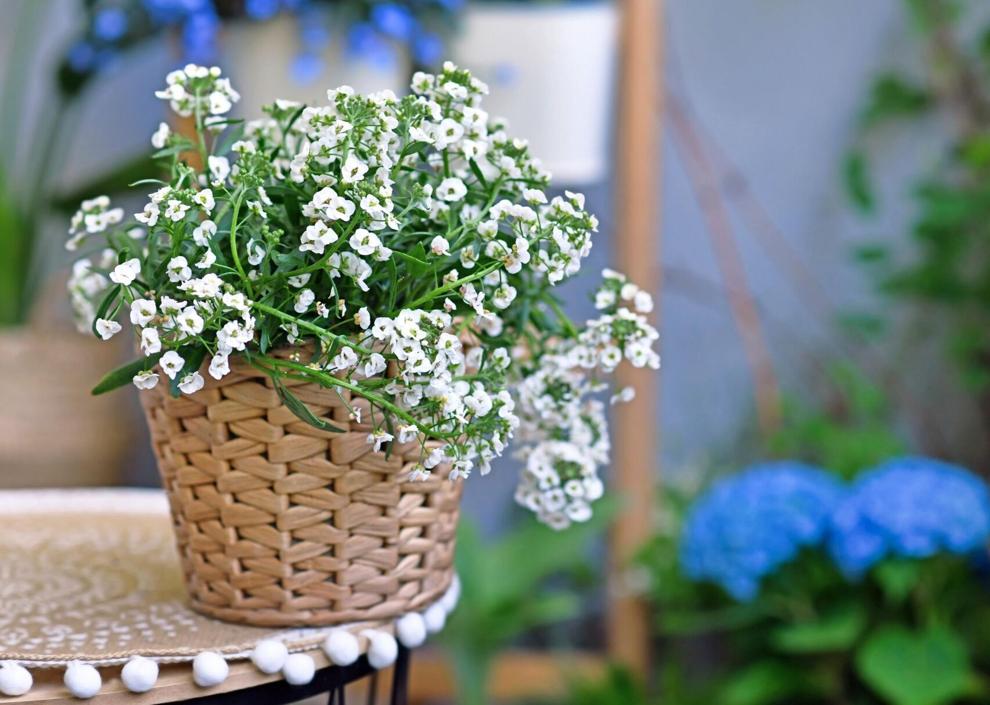 Cat grass
Valerian
Spider plants
Silver vine
Hoyas
Honorable Mention: Tatarian honeysuckle
Contact Brendan Denison at (309) 820-3238. Follow Brendan Denison on Twitter: @BrendanDenison