GREENSBORO — The kittens arrived at the Guilford County animal shelter late Thursday afternoon — in a cookie tin — so young that their eyes weren't open yet.
But there was no volunteer immediately available to foster the five orange siblings, whose mother had disappeared and who have to be fed every couple of hours.
So Kendelle Federico took them home overnight. Federico, the shelter's foster care coordinator, said many of the people who foster animals are on vacation — including those able to bottle-feed the kittens.
She also contacted her counterpart in Burlington to see if they had any "bottle-feeders" who could help. She heard back Friday morning and the two coordinators arranged a swap: Guilford took one of Burlington's dogs in exchange for the kittens.
The story illustrates the need for people to foster not only kittens, but dogs, cats and the occasional puppy as well.
Fostering animals on average lasts two weeks, according to the shelter's website.
"The primary need is kittens here," Federico said. But fosters also are needed for large adult dogs, especially those who are shy or have been at the shelter for a month or more.
Animals with medical issues also — such as a dog recovering from an amputation or a cat with anemia — also need fostering.
A program called Dog's Day Out allows people to take a canine out for a few hours or a day to give it a break from the shelter. People can take the dog to a park or their home or for a visit to a pet-friendly businesses.
"A lot of people go to Starbucks for the "pup cup" sort of thing," Federico said. "A lot of the longtime dogs need that kind of break away from the shelter so they can … decompress a little bit. It's been really, really beneficial."
And then there's the weekend getaway option.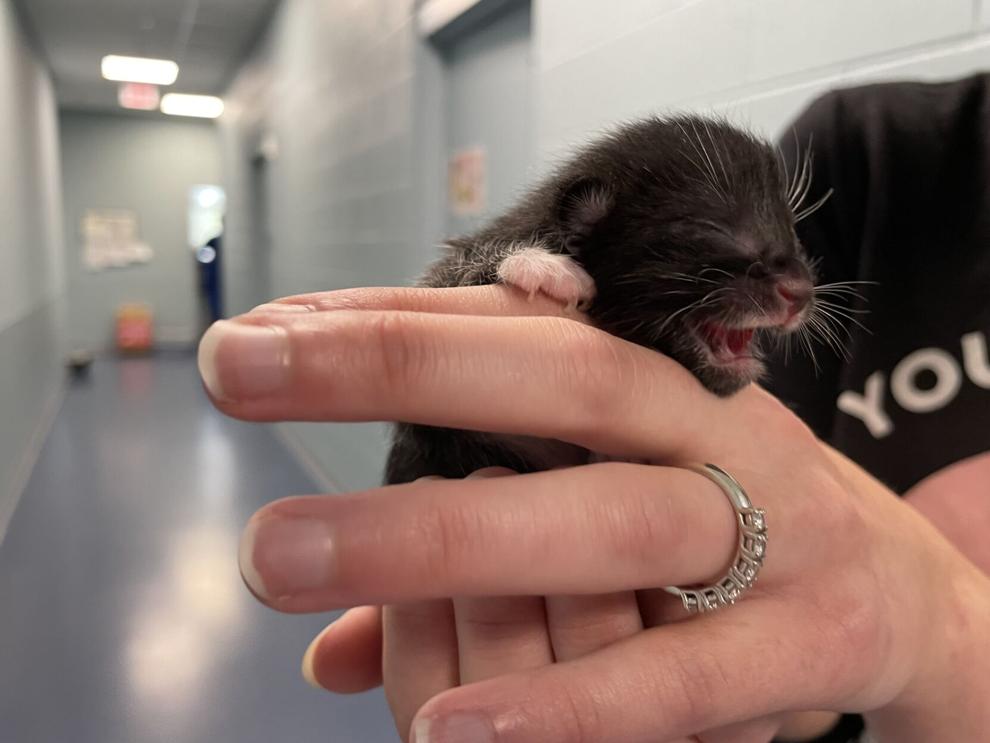 "That would be taking a dog maybe on Friday, fostering it over the weekend and bringing it back on Sunday," Federico said. "That really helps us get a lot of information about how they are in a home. It gives the dogs a break from the shelter and overall, it's a win-win for both parties."
Pictures and videos taken during these foster outings also helps with getting people interested in the animal, she explained.
All veterinary care is taken care of by the shelter. Pet food, crates, toys and other items are generally provided.
"You don't need to go to the pet store and spend a lot of money to take a foster home," Federico said. "We are super blessed here to get a lot of donations that really, really helped with the foster program."
The shelter currently has nearly 140 animals in foster care. About 20% of the foster families — or their relatives or friends — end up adopting the animal.
People who foster have to be at least 18 years old, have a valid driver's license and their own pets have to be spayed or neutered and up-to-date on vaccinations.
The agency recommends having separate spaces for personal pets and foster pets, with a seven- to 10-day isolation period for the safety of the animals.
Most foster parents work, which may mean keeping a dog crated while they're gone. But officials say that's still an improvement over the amount of time that pet would stay in its kennel at the shelter.
Federico said sometimes people hesitate to foster an animal because they fear it will be sad when it goes back to the shelter.
"They shouldn't feel badly at all," she said. "It's much better than spending time here in the shelter and it really does help with decreasing stress levels."