A dog and the staff at the Dodge County Humane Society got their wish last month when longtime shelter resident Harley, an American Staffordshire terrier mix, found his forever home.
"Harley was probably the longest resident we've had in all of my time at Dodge County Humane Society," said Kensie Drinkwine, the humane society's executive director.
"He was with us for over 11 months. We watched him learn manners. We watched him enjoy his daily walks. We got the chance to love on him every day for 342 days. All our staff members became very attached to him," Drinkwine said.
"However, we also watched him become very depressed by shelter life. We saw him saddened every time he had to go back to his kennel. We saw him become despondent and hopeless," Drinkwine said. "Our entire staff was determined to give Harley the second chance that he deserved."
Harley's adoption day was a celebration for the organization as a whole," Drinkwine said. "We were so thrilled for Harley, and also so proud to have finally found him the perfect home."
Harley came to shelter after being involved in an altercation with another dog in Randolph.
For almost a year, the community showed a lot of love for Harley, which the humane society shared on its Facebook page. But month after month, no one came in to adopt the pup.
All changed on Aug. 24, when the Miszewski family came to the shelter trying to find a pet and fell in love with Harley. Dennis, Jocelyn, 10-year-old Nathan and 2-year-old Lucas are Harley's new owners.
"We have always been cat people," Jocelyn said. "We love dogs, but we got our two cats, Sophie and Lucy, in 2007, and they were our fur babies until May of 2022 and May of this year. We knew one day they'd be gone and we always said we would get a dog."
Jocelyn said she started seeing posts about Harley showing up all over her Facebook page.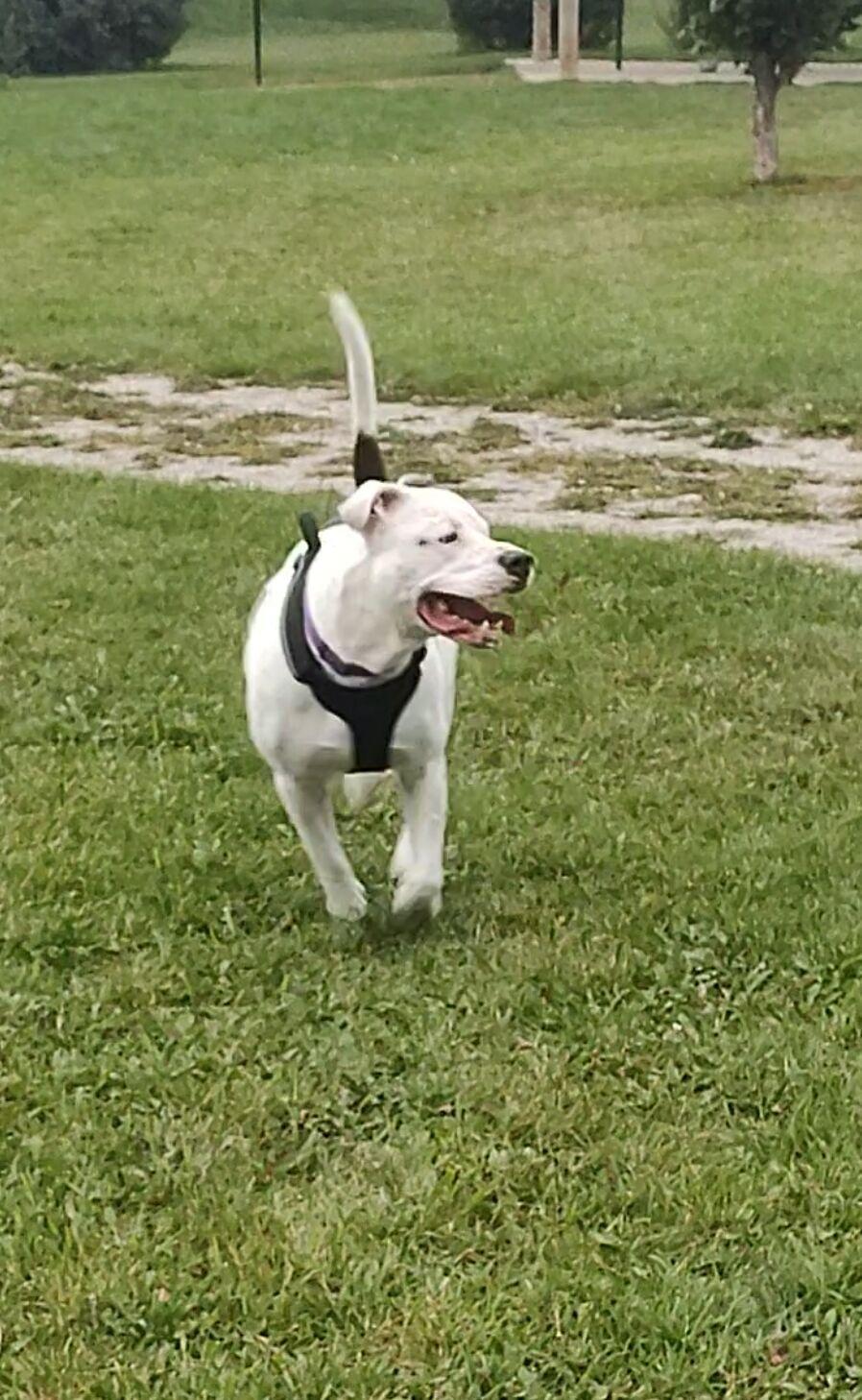 "I was so bummed for him," Jocelyn said. "Every post was more heartbreaking to know he was still there. However, we still had our cat, so I knew it would never be our place to step in and adopt him. I never imagined he would still be there when we lost Sophie this year. But he was, and the posts were being shared by so many of my friends, and everyone's hearts were just breaking for this poor guy."
Jocelyn said she wanted to go visit him, but she knew if she did, she would not be able to leave without him.
"Our whole family was still grieving the loss of the cats. My husband really wasn't on the same page as me about Harley or getting a new pet in general," Jocelyn said. "So I knew it wasn't the right time and maybe he wasn't meant to be ours. But I showed (my husband) a couple more posts, and eventually he seemed to be more on my page. We decided to go meet (Harley) and made our appointment."
The first meeting with Harley did surprise Jocelyn, she said.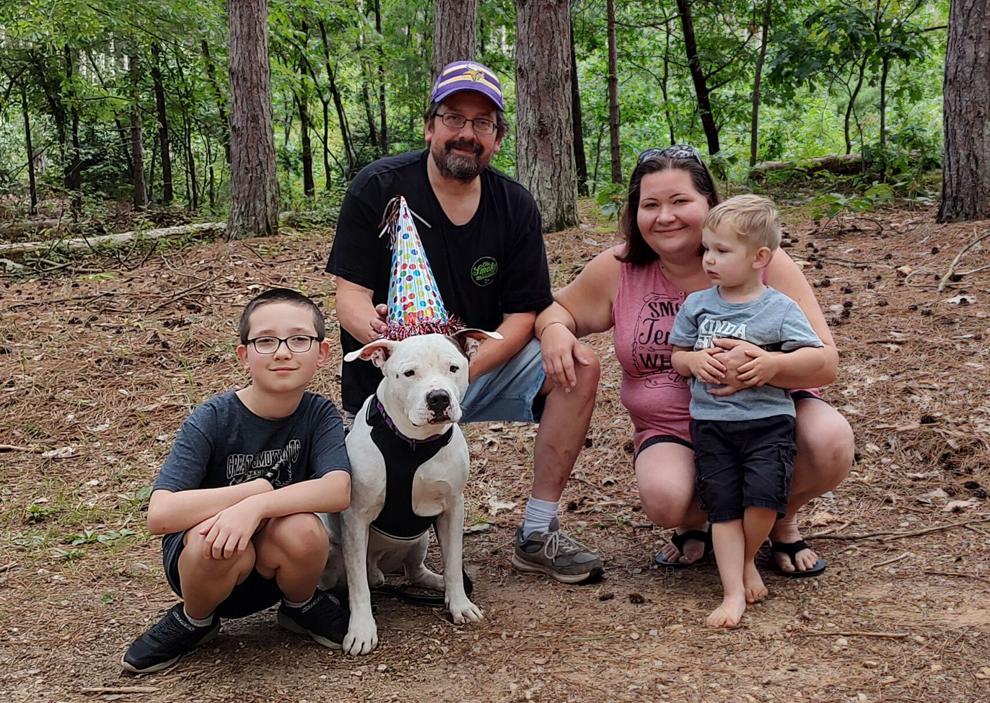 "It was much more laid back and Harley was so much bigger than we thought he was," Jocelyn said. "But he came barreling in with a stuffie in his mouth, and the feeling I had all these months about him was ever present in that room. He circled around us so happy and excited. My 2-year-old was playing around like toddlers do and he didn't seem to be bothered much."
The family talked to the staff about Harley and got their questions answered, Jocelyn said. They were surprised to learn that Harley's adoption fees were sponsored, and were able to quickly add the dog to their family.
"The outpouring of grateful hearts in this community of Harley supporters has been absolutely unreal," Jocelyn said. "So many people reached out to thank us and bless our future together. It was truly beautiful."
Jocelyn said her family was not concerned about adopting a dog that was at the shelter for so long, but were more concerned about the dog having to be be there for a full year.
"I would've had to unfollow the DCHS page and block a ton of friends because that would've been too heartbreaking to know about," Jocelyn said. "I know the family he came from and I knew his backstory. I had nothing but compassion for him."
There have been struggles along the way, Jocelyn said, including having a small child around the 65 lb. dog.
"I know he just wants to play with the boys, but we are working on what's OK and what's not," Jocelyn said. "He's learning and really is a great dog. After voicing my concerns for that relationship between Harley and the baby, DCHS connected me with a dog trainer and together they are giving us a session with Harley, and I couldn't be more grateful for that help. Even the advice he gave me on the phone has helped tremendously. I see a wonderful future with (Harley) in our family."
Harley enjoys the family's activities, Jocelyn said.
"The dog park will definitely become more of a staple as we work on his behaviors," Jocelyn said. "He loves his people but dogs are still not a favorite. However, the dog trainer did say we could work on that, as well. He is a snuggler to the extreme. It is like plopping a concrete statue on your lap, but once he has his spot, he is all lap dog. And all love. And he snores like a grown man."
Harley is quickly becoming part of the Miszewski family, Jocelyn said.
"Nobody is perfect, and to expect a dog who has seen some pretty rough times be perfect is asking too much," Jocelyn said. "I hope our love and our family can heal what has hurt him in the past and we can help him become his best Harley."
There are several other animals at the humane society in need of a home, Drinkwine said.
Octavia is a black and white cat who had to have most of her teeth removed. Due to her surgery, she has been with the shelter for more than 30 days.
Queso is a medium-size low-rider dog. He has lots of energy and needs some manners work after being at the shelter for 175 days.
Gino is a little terrier. He is slow to warm up to people and unfortunately, his bite is bigger than his bark. He has been waiting for 106 days to find a quiet home with no children.
Little Mama is the perfect-size Texas brown mutt. She has been waiting for a home for 207 days.
"Our adoption process is a very simple one," Drinkwine said. "We rely heavily on in-person communication between the adopter, the staff and the animals. There is very little paperwork involved in the application process, but we instead have open conversations about the pet, the home and the family dynamic. We use those conversations to try to place pets in their forever homes."
"If someone is interested in adopting, the first step is to look online at (the animals') bios. We include as much information as we know," Drinkwine said. "From there, we encourage adopters to stop in and meet the animals that they think are a good fit. We are here to help with the process."
Follow Terri Pederson on Twitter @tlp53916 or call 920-356-6760